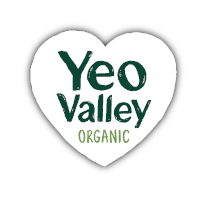 THE FARM, LONGNOR

MEET TIM & LOUISE DOWNES
The Farm, Longnor is a family run farm near Shrewsbury in Shropshire and has been organic since 2000. Tim and Louise farm in partnership with Tim's parents John and Chris in over 405 hectares (1000 acres), a proportion of which is farmed with others with a grass-based dairy herds totalling 300 cows that produce organic milk for Yeo Valley.
To maximise the milk from grass and pasture productivity, they grow diverse swards and practice rotational grazing, helping to keep diversity in the leys and permanent pasture.
They have also been working with The Woodland Trust to research the benefits of planting trees on dairy farms as agroforestry.
Providing high quality grazing for our dairy herd is essential for their general health, but the higher nutritional values also lead to improvements in the quality of our milk.
WHY WE GOT INVOLVED
Soil profile: soil is varied containing boulder clay and sandy loam
"I'm passionate about sustainable farming practices. I am always looking for ways to improve my farm and like to manage it in hand with nature, to maximise the sustainability and long-term future."
For more information visit: Tim's twitter Tim Downes (@clovermad) / Twitter