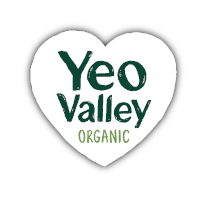 Riverford Organic
Riverford and Riverford dairy
When Riverford was founded in 1987 by Guy Singh-Watson, it was just one man and a wheelbarrow. Today, they deliver organic veg boxes to around 90,000 homes every week – from their original Devon farm, and a sister farm in Cambridgeshire.
Since converting their first field to organic, Riverford has been committed to making a positive impact – whether that's through innovative packaging, fighting food waste, becoming employee owned, and now taking part in the Yeo Valley Regenerative Organic Farming Project.
Yeo Valley will be working with Riverford to analyse over 1,800 acres of the soil on their Devon and Cambridgeshire farms.
"As part of the organic community, we already have a real focus on soil health, as it plays such an important part in producing our food sustainably. However, this project takes another step forward."
WHY WE GOT INVOLVED
Riverford want to explore how soil management can affect the amount of carbon sequestered within the soil, and gain a better understanding of their soil's health. This will include not just the effects of veg growing, but also of the Riverford Dairy herd, who graze Riverford's Devon land in rotation with crops.
Riverford has measured the organic matter in their soil before, in 2014, as well as completing preliminary carbon footprint studies at their Devon and Cambridgeshire farms. Each year, they conduct nutrient sampling. This will be their first project to look specifically at carbon sequestration in the soil, which is why they're eager to collaborate with Yeo Valley.
They are also keen to understand how soil health is impacted by the 'cover crops' (such as vetch and clover) that organic farmers use to protect and fertilise their soil while it rests in between veg crops. This is a vital part of the organic growing process, as it allows nutrients to return to the soil; it's one of the reasons why veg are not continuously grown in Riverford's fields.
Through this project, Riverford will gain vital info that will allow them to make the best soil management choices in the future. They will use this project as a baseline to analyse their own data for the next 3-5 years, seeing the effect of any improvements to their soil management, and learning what their optimum soil health could look like.
"This project takes another step forward. We really enjoy collaborating with other likeminded people, and are looking forward to learning how we can do even better."